ONA offers a host of speaking, volunteer, fellowship and sponsorship opportunities for our annual conference. Many of our opportunities are now closed, but there are still a few ways to get involved.
---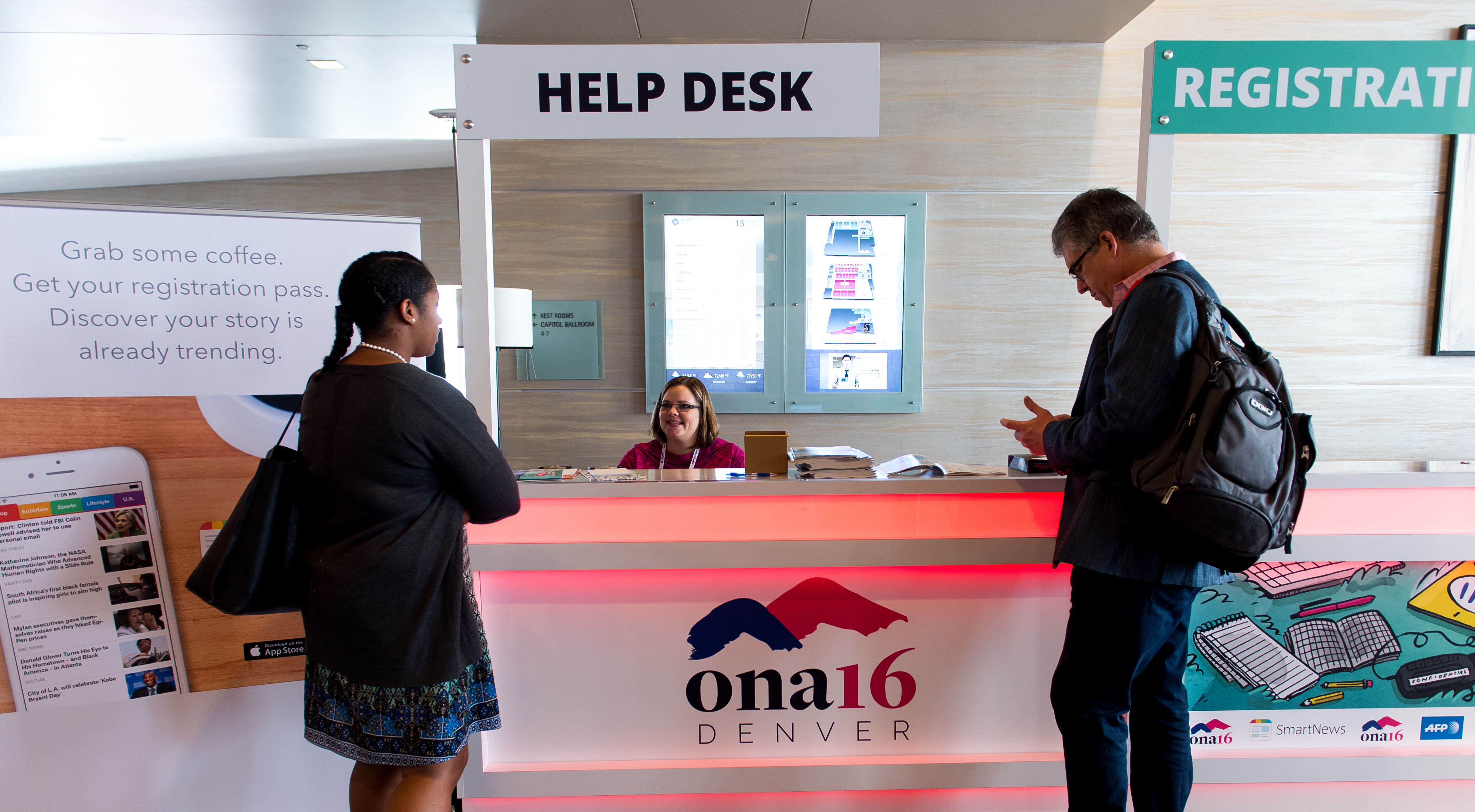 Unconference
Tell us what we've missed! These open sessions are a chance for you to propose conversations on topics we may not have covered elsewhere. Be ready to submit your ideas in August, and conference attendees will vote on their favorite topics right through the start of ONA17. The unconference is open to all ONA17 attendees. You can search for "unconference" on last year's schedule page to see what sessions were accepted.
---
The following opportunities for ONA17 have closed:
Student Newsroom and Innovation Lab
The Student Newsroom is one of the most exciting opportunities at ONA17, immersing undergraduate and graduate students in a digital media environment by providing a hands-on reporting experience throughout the three days of the conference. Out of many applicants we chose 20 students and 16 mentors to implement their innovative ideas in covering the conference
Presenting at ONA17
Our Suggestion Box offers an opportunity to pitch ideas to be included in ONA17 sessions. Each year, we look for inspiring thoughts, proven best practices and expert training on emerging tech and tools in digital journalism. Applications closed on April 13, 2017 and the ONA17 schedule has been announced! Learn about our process, or read other frequently asked questions.
Volunteer – applications are now closed
We have opportunities before, during and a bit after the conference. Volunteers work alongside the best minds in digital journalism, and revel in the satisfaction of pulling off one of the premier events in the industry. Applications closed on March 23, 2017.
Already applied? We will let volunteer applicants know of their status – whether they are accepted or not – before early bird registration ends so that applicants who are not selected are able to take advantage of our lowest registration pricing. Read our volunteer FAQ for more, including about the available opportunities.
CNN Diversity Fellowship – applications are now closed
Digital journalists from diverse backgrounds with experience reporting for mobile and social platforms are encouraged to apply for the CNN Diversity Fellowship at ONA17. Four winners will receive an all-expenses-paid trip to the ONA conference in Washington, D.C., Oct. 5-7. For the third year, this opportunity is supported by CNN.  Applications closed August 21, 2017.
HBCU Digital Media Fellowship – applications are now closed
Historically Black College and University (HBCU) students with impressive academic and journalistic achievements are invited to apply for an all-expenses-paid trip to ONA17 as well as a free, one-year ONA Student membership. You can take a look at last year's candidates to get a sense of what successful candidates are up to. Applications closed July 20, 2017.
MJ Bear Fellowship – applications are now closed
The MJ Bear Fellowship program recognizes innovative, early-career digital journalists, working independently or for a company or organization. Among many other perks, the fellowship includes support for registration, travel and accommodations for ONA17. Take a look at our 2016 MJ Bear Fellows to get a sense of the what successful applicants are up to.  Applications closed July 20, 2017.
---
Here are some additional opportunities to get involved (registration not included):
Online Journalism Awards
Want to have your incredible work showcased at our annual Online Journalism Awards Banquet? Our awards honoring excellence in digital journalism around the world represent a wide range of nonprofit, public, academic, major media, independent and emerging technology organizations. Entries will open this summer, and winners will be announced live at the Online Journalism Awards Banquet on Saturday, Oct. 7, in Washington, D.C.
Midway
Discover emerging products to elevate your work. Experiment with new tools to increase your reach. Design new narrative forms using cutting-edge platforms. The Midway is journalism's lab of the future. Join us to explore new tools, meet experts in the field, tell amazing stories, play with interactive landscapes and more. Contact midway@journalists.org or Jessica Strelitz, jessica@journalists.org, (571) 212-1363.
Sponsors
Whether you're looking to introduce your new product to thousands of innovators or join some of the most elite organizations in digital media in supporting ONA, we have sponsorship opportunities at a variety of levels. Contact Jessica Strelitz, jessica@journalists.org, (571) 212-1363.