Torn between two sessions? Or unable to attend ONA17 at all? Don't worry, most sessions will have a video or audio recording available after the conference. We're also livestreaming what we anticipate will be some of our most popular sessions.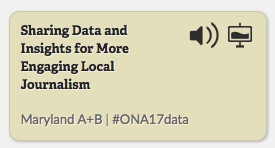 YouTube channel.
If a session has an audio-only icon, we'll be recording that session during ONA17 and will post an archive after ONA17 is over. It's worth noting this does not mean we'll have an audio livestream, only a follow-up recording a week or two after the event.
Finally, nearly all sessions will have speaker resources and a live blog posted by our amazing social team — volunteers providing in-depth social coverage of sessions and other events throughout the conference. We'll do a massive resource round-up after the event, so keep an eye out for that so you can find everything you need.
To see what sessions will have a livestream and which will have an audio recording, please look at our schedule page.