There's a lot planned at ONA17 next week, but you don't need to be in D.C. to find resources, inspiration or a job.
Video, audio and more resources from ONA17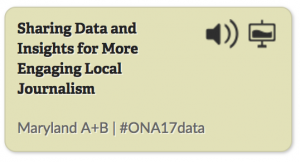 From our opening keynote on Thursday to the Online Journalism Awards closing out the conference on Saturday night, you can stream presentations by going to the ONA17 schedule and clicking on sessions with a screen icon. (Please note that all times on the schedule are listed in local time and D.C. is on Eastern Time). We're also recording audio of sessions which will be made available after the conference. Look for sessions with these icons on the ONA17 schedule to see what you can access.
See the full list of streamed sessions here and add them to your calendar.
All things ONA17 on social media
We've got a lot of ways for you to follow the action:
Follow @ONAconf and @ONA on Twitter for updates and check out the Twitter lists of ONA17 Speakers, ONA17 Attendees, ONA17 Social Team, which is doing live coverage of conference sessions, and the Student Newsroom, which will report on the conference.
Watch #ONA17 for conference highlights and #OJA17 for the awards.
To make it easy to follow or join a conversation about a specific topic, we've created hashtags for each session. You can find those on the ONA17 schedule.
We've got some special things planned on Facebook Live this year! Connect with us on Facebook to watch takeaways from the video team.
New! We're got an ONA17 bot! If you have questions about sessions, you can chat on Facebook Messenger with us with the bot courtesy of our partners at Chatfuel and Master of Code.
Follow ONA's Instagram account so you can see watch our stories, see fun photos from ONA17 and tag us. We're @online_news on Instagram.
Sign up for ONA's newsletter so you hear about all the big announcements at the conference, including the winners of the Online Journalism Awards.
Honoring the best in digital journalism
On Oct. 7, the winners of the 2017 Online Journalism Awards will be announced in D.C. Joshua Johnson, host of WAMU and NPR's 1A, will take on emcee duties for the evening as we honor the best of digital journalism. We'll begin live-streaming the awards ceremony starting at 7:50 p.m. ET. Follow along and cheer for your favorites with #OJA17.
If you're looking for more details on the conference, the conference website is your best resource. We've been highlighting sessions to watch and special events that you won't want to miss in the lead up to the conference and we'll be focusing on live coverage all this week.